A test-taker from Iran (thanks S!) shared what he remembered about the recent exam topics:
Writing test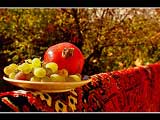 Writing task 1 (a report)
We were given a table showing facilities offered at the university in the UK and the percentage of students happy with them.
Writing task 2 (an essay)
Money should be spent on creating new public buildings such as museums or conference halls rather than repairing existing ones. To what extent do you agree or disagree?
Speaking test
Interview
– What do you do?
– Why did you select this job?
– What would you like to do in the future?
– What were your favorite toys as a child?
– Did you prefer playing with your friends or on your own?
– What can you learn from toys?
Cue Card
Describe an old person that you like. Please say
– Who is he/she?
– Explain why is he/she interesting to you?
Discussion
– What is the normal age for being considered old in your country?
– What is the normal age for retirement?
– Why don't old people respect young people?
– Do old people just think they don't get respect or do young people genuinely disrespect them?
Get a self study book, for Academic click here, for General here.
Subscribe to IELTS-Blog.com via RSS or via email