The recent IELTS exams in India, UAE and UK appear to be the same according to S, A and R, who collectively remembered the following topics and questions:
Listening test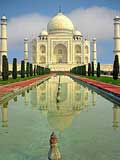 Section 1. A conversation between a college student and a university staff member. The student was enquiring about some Arts courses.
Section 2. A conversation between a university supervisor and two students about some research.
Section 3. Don't remember.
Section 4. A conversation with the owner of a forest railway track and how he is progressing. He was telling about what he and his family does there.
Reading test
Passage 1. About facial impressions recognition and body language reading.
Passage 2. About women and their performance at work compared to men. Their ability to outperform men even at managerial roles.
Passage 3. About the library, its role in our life and its evolution over the years.
Writing test
Writing task 1 (a report)
We were given a table showing the figures of unskilled, technical, managerial and skilled workers available throughout the years 2003-2004 and the difficulty to find a workforce required by employers.
Writing task 2 (an essay)
Some people think that social networks such as Facebook have a negative impact on individuals and our society. To what extent do you agree or disagree?
Speaking test
Interview
– What is your full name?
– Can I see your ID?
– Where are you from?
– Do you work or study?
– What do you do during the day with a baby at home?
– How did you feel holding a baby for the first time?
– Can you read maps?
– How often do you use this skill?
– When was the last time you used it?
– Do you prefer electronic or paper maps?
– When you go abroad do you use maps?
– Is there a lot of traffic in your city?
– When does it usually get busy?
– Should women learn to drive? Why?
– Did you take a cab recently?
– When was it?
– Where did you go in it?
Cue Card
Describe an occasion when you were given an advice. Please say
– Who and when gave it to you?
– What was the advice?
– How did it turn out later?
Discussion
– What should the qualities of a good adviser be?
– Is it good to get advice from parents or friends? Why?
– Is it good to get advice from teachers? Why?
– In your country who usually gives advice, parents or teachers? Why?
Get a self study book, for Academic click here, for General here.
Subscribe to IELTS-Blog.com via RSS or via email