This IELTS exam update was shared by Y from India (thanks!)
Listening test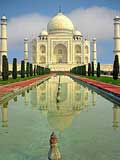 Section 1. Insurance form completion.
Section 2. Don't remember.
Section 3. Survey form completion about teaching methods.
Section 4. Research into dolphins.
Questions: short-answer questions, multiple choice.
Reading test
Passage 1. Summer camp in New Zealand.
Questions: filling in blanks, True/False/Not Given.
Section 2, 3. Don't remember.
Section 4. The history of pen invention.
Questions: True/False/Not Given, match headings to paragraphs.
Writing test
Writing task 1 (a letter)
One of your friends is planning to visit your country and asking you for some information. Write a letter to him/her and say
– when the best period to visit your country is
– suggest a plan for the travel
– recommend places to visit in your country
Writing Task 2 (an essay)
In many countries schools are open before and after normal hours so children of working parents can stay longer at school. Do you think there are more advantages or disadvantages to this approach?
Get a self study book, for Academic click here, for General here.
Subscribe to IELTS-Blog.com via RSS or via email