Two IELTS test takers (thank you R and B!) remembered the following topics from their recent exam. Apparently India and the UAE had the same test:
Listening test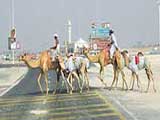 Section 1. Obtaining a driving license in New Zealand.
Section 2. About ships.
Section 3, 4. Don't remember.
Reading test
Passage 1. Production of ice packs.
Passage 2. Project management procedure.
Passage 3, 4. Don't remember.
Writing test
Writing task 1 (a letter)
You have recently noticed an increase in traffic in your residential area. Write a letter to the responsible person at the local council to inform him/her about the problem and say
– Introduce yourself and describe the problem.
– What are the reasons for the traffic in your view?
– Suggest a solution to the problem.
Writing Task 2 (an essay)
Almost every successful company is using advertisements to increase their sales. What features make an advertisement effective? Is advertising good or bad for the society?
Speaking test
Interview
– What is your full name?
– Can I see your ID?
– Where are you from?
– Do you work or study?
– Describe the area where you live.
– Do you like the place where you live?
– Is this area good for children?
– Do you like to visit parks or gardens?
– When was the last time you visited a park or a garden?
– What kind of weather do you like?
– Do you like to talk about the weather?
Cue Card
Talk about a recent celebration (a wedding, a party and so on) that you have attended. Please say
– What was the reason for the celebration?
– What were you doing there?
– Did you enjoy the celebration?
Discussion
– Do you think people spend a lot of money on weddings these days?
– Do you think people get married late nowadays? Why?
– Do you think attending such events is important? Why?
Get a self study book, for Academic click here, for General here.
Subscribe to IELTS-Blog.com via RSS or via email