Our friend A took the IELTS test in Hong Kong and remembered the following topics and questions:
Listening test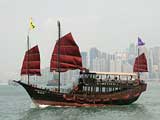 Section 1. About a visit to an old town, with a description of main buildings, furniture and so on.
Section 2. A description of remote parts of Australia.
Section 3. About an AUV – autonomous underwater vehicle.
Section 4. About space stations.
Reading test
Passage 1. About a theme park.
Questions: multiple choice, True/False/Not Given, map labelling.
Passage 2. Description of work environment and procedures at some company.
Questions: filling in blanks.
Passage 3. Don't remember.
Passage 4. About some common habit of birds that live around the city area.
Questions: filling in blanks, True/False/Not Given.
Writing test
Writing task 1 (a letter)
You have recently bought some furniture. It was broken when you received it. Write a complaint letter to the store manager and say
– What and when did you buy?
– Why was it broken?
– Suggest how the problem could be solved.
Writing Task 2 (an essay)
Nowadays courses and general study online are getting very popular. However, some people still prefer attending classes in person. Discuss both views and give your own opinion.
Get a self study book, for Academic click here, for General here.
Subscribe to IELTS-Blog.com via RSS or via email