Our kind friend B took the IELTS test in Hong Kong and remembered the following topics and questions:
Listening test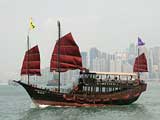 Section 1. About sports photography and the itinerary of a weekend photography course.
Questions: diagram labeling.
Section 2. About a library renovation and extension.
Questions: multiple choice, match headings to paragraphs.
Section 3. Don't remember.
Section 4. About sports utility vehicles (SUV).
Questions: filling in blanks.
Reading test
Passage 1. Medical services hotline.
Questions: match paragraphs to information.
Passage 2. About a TV program.
Questions: short-answer questions (no more than 4 words).
Passage 3. Don't remember.
Passage 4. A loan application for buying trip tickets.
Questions: short-answer questions (no more than 3 words).
Writing test
Writing task 1 (a letter)
Write a letter to a friend to ask for his/her help to collect money for a charity organization. The letter needs to cover the following details:
– Why do you want to collect money for the charity organization?
– Ask your friend to help.
– Explain in detail how your friend can help.
Writing Task 2 (an essay)
Some people believe that children should listen to and obey their parents. Others believe that children should think and do things on their own. Discuss both views and give your own opinion.
Get a self study book, for Academic click here, for General here.
Subscribe to IELTS-Blog.com via RSS or via email