Our kind friend R (IELTS tutor from Venezuela), has sent us an update from a recent exam, as remembered by 2 of his students.
Listening test
Section 1. A man was calling a newspaper to to publish an advertisement.
Section 2. Two teachers were discussing with their supervisor the activities they had planned for students.
Section 3. A lecture about plants.
Section 4. Don't remember.
Reading test
Passage 1. An article about child labor.
Passage 2. About the impact of climate on the wealth of countries.
Passage 3. About grammar and words.
Writing test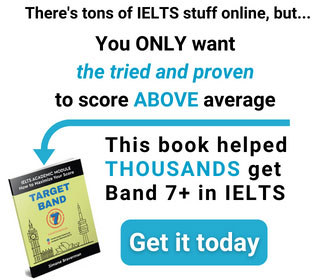 Writing task 1 (a report)
We had a chart describing the evolution of the level of qualifications among UK workers from 1990 to 2010 (one line chart was showing 4 trends).
Writing task 2 (an essay)
Some people think they should keep all the money they earn without paying taxes, others disagree. Discuss, what is your opinion?
Speaking test 1
Interview
– What is your full name?
– Where do you live?
– Is it a big city or a small town?
– How long have you been living there?
– What would you prefer: to attend a concert or to buy a CD of your favorite artist?
Cue card
Talk about the car you would choose if you could buy any car. Please say:
– What car would you buy?
– Why would you buy this particular car?
Discussion
Questions about public transport.
Speaking test 2
Interview
– What is your full name?
– Where are you from?
– May I see your Identification Card?
– Where do you live?
– What can you tell me about your hometown?
– Tell me a little bit about the history of your hometown.
Cue Card
Tell me about a specific skill that you have learned. Please say
– Why did you learn it?
– How did you learn it?
– Why do you find it useful?
Discussion
– Do you think children are better than adults at learning new skills?
– Do you think we have to keep up with new skills?