IELTS test in Canada and Brazil (these countries had the same exam) was contributed by M. and T., who collectively remembered the following details. We all are thankful to these kind people for sharing.
If your exam is tomorrow (as it is for many people), I wish you good luck and easy questions! Oh, and please do share what you remember after it's over – click here and send me your questions.
Listening test
Section 1: A talk between a man and a woman about sports activities and details such as price, what is included in the package, and skills required.
Questions: Filling in the gaps.
Section 2: A student talking to his tutor, telling what the activities he needs to do and asking for suggestions.
Questions: Filling in the gaps.
Section 3: Effect of planting and trees on environment and cities.
Questions: Filling in the gaps, information matching.
Section 4: Differences between teaching in the past and teaching now with interactive tools.
Questions: Multiple choice.
Reading test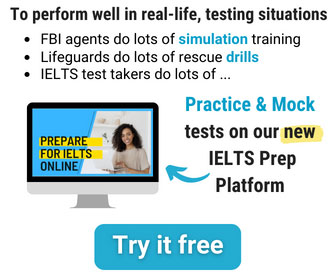 Passage 1: Advertisements about a variety of places and the activities/service they provide for children.
Questions: Matching advertisements to a few statements.
Passage 2: Rules about wearing protective clothes at work.
Questions: Filling in the gaps using NO MORE THAN ONE WORD.
Passage 3: An article about birds. Everything related to their nature and environment
Questions: Filling in the gaps using NO MORE THAN TWO WORDS.
Passage 4: Don't remember.
Questions: True/False/Not given and short answer questions.
Writing test
Writing task 1 (a letter)
Write a letter to the manager of the hotel where you stayed about a member of staff who helped you solve a problem. In your letter
– introduce yourself,
– explain the situation, what was the problem and who fixed it,
– offer to reward the person in a certain way.
Writing task 2 (an essay)
Some people believe that children should be raised in cities. Others think the better location is the countryside. What is your opinion?
Speaking test
Interview
– What is your full name?
– What do you do? Do your work or study?
– Did you have to do any kind of training in order to perform your current work?
Cue card
Talk about what would you like to start doing as a leisure activity You should say:
– what the activity is,
– where you would do this activity,
– why you would like to do this activity.
Discussion
– Do you think children spend too much time on leisure activities?
– Why are some leisure activities more interesting than others?
– Do you enjoying being with a friend while doing leisure activities?
– How often do you do leisure activities?