IELTS in Bulgaria was described by P, a regular visitor of IELTS-Blog.com. Here is what P said:
"I would like to thank you for the help offered on this website. It has been really helpful. I also have your book 'Target Band 7'. It's great! So many useful tips. I am from Bulgaria and did the IELTS yesterday. Here is what I can remember now, although I was quite nervous and some things are a bit blurry in my head.
Listening test
Section 1. A printing company arranging an order for a hotel company.
Section 2. Sounded similar to an advertisement of a hotel.
Section 3. A dialogue between a researcher and a representative of a university.
Section 4. A monologue about perfumes.
Reading test
Passage 1. New transport systems.
Passage 2. Aquaculture.
Passage 3. Assessing risk.
Writing test
Writing Task 1
A graph showing the percentage of river water of good quality in four countries for a particular period. There was also a forecast for the future.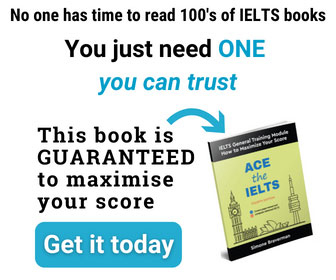 Writing Task 2
People spend more and more time at their work place and don't spend enough time with family and friends. Why is this happening? What consequences can this have for the family life and society?
Speaking test
Interview
– What is your full name?
– Do you work or study?
– What do you study?
– Why do you study this?
– Do you prefer watching films at home or in the cinema?
– Time: does it go slowly or fast?
– Do you usually wear a watch?
Cue Card
Describe a person you have lived with, please say:
– How long have you lived together?
– What did you feel like when you lived with him/her?
– What activities did you do together?
Discussion
– Do you think young people should leave home earlier?
– What do parents think about this?
– What are the pros and cons of accommodation versus your own home?
– Should the government help poor people find a place to live?
– Does the Bulgarian government help in this respect?