Our kind friends from Botswana and Zambia shared the Writing and Speaking topics from their recent IELTS exams:
Writing test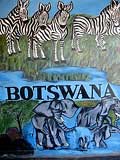 Writing task 1 (a report)
There were three pie charts comparing the opinions of young people about mobile phones, nuclear energy and genetically modified foods.
Writing task 2 (an essay)
Nowadays many employers are hiring an equal number of men and women for work. Do you see this as a positive or a negative development? Give some examples to support your opinion.
Speaking test
Interview
– What is your full name?
– Can I see your ID?
– Where are you from?
– Do you work or study?
– Do you live in an apartment or a house?
– What chores are done by you at home?
– Did you help your parents with housework when you were young?
– Did you visit a park in your childhood?
– What are the advantages of parks?
Cue Card
Describe a situation when you were late. Please say
– What were you late for?
– What was the reason?
– How did you feel after that?
Discussion
– Do you mind if other people are late?
– Do you think people are too busy these days?
– What is better for people: to have little or lots of free time?
– How does being busy affect family life?
Get a self study book, for Academic click here, for General here.
Subscribe to IELTS-Blog.com via RSS or via email