An IELTS test taker from Colombia (thanks, D!) remembered the following Listening topics as well as Writing questions:
Listening test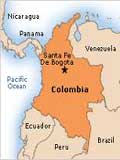 Section 1. Lifeguard application form.
Section 2. An over the phone purchase including item details and personal information.
Section 3. Don't remember.
Section 4. A conversation between two students about their college.
Reading test
Passage 1. A text about a dirty river, but clean water.
Passage 2. About science in general and different scientific methods used.
Passage 3. Don't remember.
Writing test
Writing task 1 (a report)
We were given a graph showing oil consumption and production in China in 2010. We had to summarize and describe the information.
Writing task 2 (an essay)
Nowadays many job seekers are finding jobs that force them to move far from their family and friends. Is it a positive or a negative trend? What can be done about it?
Get a self study book, for Academic click here, for General here.
Subscribe to IELTS-Blog.com via RSS or via email