Our friend T took the IELTS test in Australia and remembered the following Writing and Speaking questions:
Writing test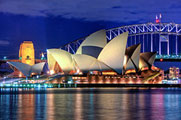 Writing task 1 (a report)
We were given a table and a chart showing the number of postgraduate students in several Australian universities. We had to summarize and report the data.
Writing task 2 (an essay)
It has been suggested that everyone in the world wants to own a car, a TV and a fridge. Do you think the disadvantages of such a development outweigh its advantages? Give your own opinion.
Speaking test
Interview
– What is your full name?
– Can I see your ID?
– Where are you from?
– Do you work or study?
– What subject are you studying?
Cue Card
Talk about a creative person in your country you are impressed with. Please say
– What are his/her achievements?
– Why do you admire him/her?
– How did he/she become so creative?
Discussion
Don't remember.
Get a self study book, for Academic click here, for General here.
Subscribe to IELTS-Blog.com via RSS or via email