Thanks to an IELTS test taker from Australia we can share these Writing and Speaking questions today:
Writing test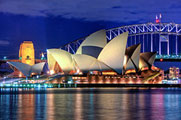 Writing task 1 (a report)
We were given a bar chart showing the spending on different items in Australia between 2003 and 2011. We had to describe it and compare where necessary.
Writing task 2 (an essay)
University students should pay in full for their own education instead of the society funding their studies. The reason is that individuals tend to benefit after graduation more than the society. To what extent do you agree or disagree? Give your own opinion.
Speaking test
Interview
– What is your full name?
– Can I see your ID?
– Where are you from?
– Do you work or study?
– What subject are you studying?
– Do you like live music and concerts? Why?
– Are they popular in you country?
– Are you interested in football?
– Do you play it yourself?
– Why do you like playing football?
– Do your friends also like football and live music?
– Do you think your country should be included in the international football organisation?
– Would it be beneficial for your country?
Cue Card
Talk about a person with whom you worked before. Please say
– Who is he/she?
– What makes him/her special?
– Would you like to work with him/her in the future?
Discussion
– How big should be a team under a team leader?
– Do you watch television?
– Do you think children watch more television now than in the past?
Get a self study book, for Academic click here, for General here.
Subscribe to IELTS-Blog.com via RSS or via email