An IELTS test taker from Australia (thanks K!) shared the following topics and questions:
Listening test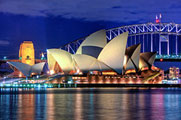 Section 1. A talk about a primary school, its facilities, days off, parents' responsibilities, and safety in school.
Section 2. About insects in general and the impact of street light on their population.
Section 3. Don't remember.
Section 4. Piet Bloom cube house in the Netherlands.
Reading test
Passage 1. About garbage collection, garbage bins, collection schedule, what to throw or not throw in each type of bin.
Questions: True/False/Not Given.
Passage 2. An advertisement about pay and holidays, for example if you work for 12 months you are entitled to certain days off and so on.
Passage 3. Regulations for labelling of ingredients on sandwiches.
Questions: short-answer questions (no more than 1 word).
Passage 4. About crocodiles, how they survived for thousands of years.
Questions: short-answer questions (no more than 3 words).
Writing test
Writing task 1 (a letter)
Write a letter to colleagues, asking for help with your presentation.
– Explain when and where the presentation will take place.
– What is the content of the presentation?
– What kind of help is needed?
Writing Task 2 (an essay)
Some say that cars should be banned from city centres. Do you agree or disagree with this statement?
Speaking test
Interview
– What is your full name?
– Can I see your ID?
– Where are you from?
– Do you work or study?
– How many seasons are there in your country?
– What are they?
– Can you describe each season and its weather?
Cue Card
Talk about a park that you have visited and remember well. Please say.
– What park is it?
– Where is it located?
– Did you enjoy it? Why?
Discussion
– Lets talk about flowers.
– Why do you think people celebrate certain occasions with flowers?
– Is it common in your country to celebrate something with flowers?
– Do you like gardens in general?
– Why do people do gardening?
– What are the benefits of herbs?
Get a self study book, for Academic click here, for General here.
Subscribe to IELTS-Blog.com via RSS or via email