The writing topics and speaking questions below were shared by IELTS test takers O and C, after a recent exam in Afghanistan.
Writing test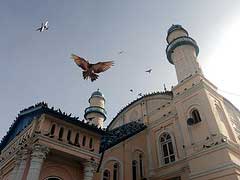 Writing task 1 (a report)
We were given a bar graph showing how a one meter rise of the sea level can damage lands in different countries around the world including Asia, North America, Central America, South America, Africa, Oceania, and Europe. There was also a pie chart showing the number of people being affected by this damage.
Writing task 2 (an essay)
Crime is a big problem in the world; many believe that nothing can be done to prevent it. To what extent you agree or disagree? Give your own opinion.
Speaking test
Interview
– What is your full name?
– How should I call you?
– Where did you grow up?
– Do you have family in your country?
– Do you like flowers?
– Do you give flowers as a present?
– Do you like artificial flowers?
Cue Card
Talk about a way of communication that you prefer (telephone, letter, email, text messages). Please say
– Why do you like it?
– How often do you use it?
– What are the advantages and disadvantages of it?
Discussion
– What place will take letters in the future?
– What was their relevance in the past?
Get a self study book, for Academic click here, for General here.
Subscribe to IELTS-Blog.com via RSS or via email