Thanks to the IELTS test taker B from Armenia we have these Speaking questions:
Speaking test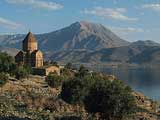 Interview
– What is your full name?
– Can I see your ID?
– Where are you from?
– Do you work or study?
– Can you describe your city?
– Let's speak about something different.
– When is your birthday?
– How are birthdays celebrated in your country?
– Do you like photos?
– Do you enjoy taking photos?
– Do you think you are good at photography?
– Do you want to become a professional photographer?
Cue Card
Talk about a meal you usually eat on a special occasion. Please say
– What food is it?
– When and where do you usually eat it?
– Whom do you invite for this meal?
Discussion
– Are there any different ideas about various kinds of food in your country?
– What is more important to you: the quality or price of food?
– Is there any difference between generations in your country in choosing foods?
Get a self study book, for Academic click here, for General here.
Subscribe to IELTS-Blog.com via RSS or via email