Our kind friends from Vietnam sent their Speaking questions – enjoy!
Speaking test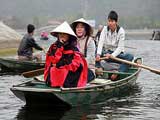 Interview
– What is your full name?
– What can I call you?
– Do you work or study?
– Is it difficult to get such a job?
– Do you live in a flat or a house?
– Should people have small or luxury weddings?
Cue Card 1
Describe a business that you would set up. Please say
– What business is it?
– What are the necessary conditions to set up such a business?
– What product would it sell or produce?
Cue Card 2
Describe a historical event that you are familiar with. Please say
– What is the event?
– When and where did it take place?
– What was special about that event?
Discussion
– What are the most common products in Vietnam?
– What foreign products do Vietnamese people often buy?
– What is more important in a person's career, academic knowledge or communication skills?
Get a self study book, for Academic click here, for General here.
Subscribe to IELTS-Blog.com via RSS or via email