Our kind friend S remembered and shared these Speaking questions after his IELTS exam in the UAE.
Speaking test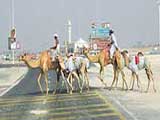 Interview
– What is your full name?
– Tell me about the town you live in.
– Can you tell me about your relatives and cousins?
– Who did you like the most from your relatives as a child?
Cue Card
Describe the journey you were on as a child. Please say:
– Where did you go?
– Who was there with you?
– How was that journey?
– Why do you still remember that journey?
Discussion
– What benefits can a person get when they travel?
– What are the ways of traveling in your country?
– Do you think travel will change in the next 50 years?
Get a self study book, for Academic click here, for General here.
Subscribe to IELTS-Blog.com via RSS or via email