The topics below were shared by D after a recent IELTS exam in Singapore:
Speaking test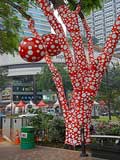 Interview
– What is your full name?
– Do you work or study?
– Do you think that your job is too hard?
– What do you usually do after work?
– Did you go to parks during your childhood?
– How often do you go to the parks now?
– Do you think parks are important for people?
– What do you do to relax?
– Do you think people have enough time to relax?
Cue Card
Describe an advertisement that makes you want to buy a product. Please say
– What was the product?
– What was the advertisement about?
– Why did it make you want to buy this product?
Discussion
– What kinds of media are available for advertising?
– Are there any traditional kinds of media for advertising other than TV and newspapers?
– What products are usually advertised using these media types?
Get a self study book, for Academic click here, for General here.
Subscribe to IELTS-Blog.com via RSS or via email