A kind IELTS test taker A shared the questions from a recent exam in Singapore:
Speaking test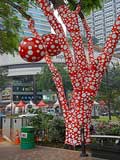 Interview
– What is your full name?
– How can I call you?
– Where are you from?
– Have you ever been on a boat tour?
– When you have a holiday will you spend it on a boat tour with your friends?
– Will you own a boat in the future?
– Why do you like boat tours?
– How often do you go to parks?
– Do you think in the future there will be more parks?
Cue Card
Talk about an interesting speech that you have attended. Please say
– Who was the speaker?
– Where did it take place?
– What was his/her speech about?
– Why did you like it?
Discussion
– Should people talk to children at schools?
– What kind of person should talk to the children?
– Why is talking to children different from talking to adults?
– Why is it difficult to talk in front of a big audience?
Get a self study book, for Academic click here, for General here.
Subscribe to IELTS-Blog.com via RSS or via email