The questions below where shared by S who took the IELTS test in Perth, Australia.
Speaking test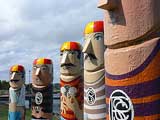 Interview
– What is your full name?
– What do people usually call you?
– May I see your ID please?
– Where are you from?
– Do you work or study?
– What subject are you studying?
– What job do you do?
– Do you have free time at all?
– What do you do during your free time?
– How do you relax?
– Do you think people have enough time to relax nowadays?
Cue Card
Describe a perfect vacation away from home. Please say
– What has to be taken into account to make the vacation perfect?
– Where would you go?
– Why would you like to travel there?
Discussion
– Have you planed a vacation for yourself already?
– Does your country have more modern or old buildings?
– Do people in your country prefer modern or traditional houses? Why?
– Would you like to design a house for yourself?
Get a self study book, for Academic click here, for General here.
Subscribe to IELTS-Blog.com via RSS or via email