Our kind friend F has shared the questions he was asked in his IELTS Speaking exam in Pakistan:
Speaking test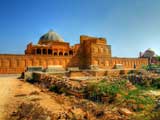 Interview
– Please tell me your full name.
– Where are you from?
– Where have you planned to go on your vacation?
– Is this a place in your country or abroad?
– What do you like about this place?
– Will you go with your family or alone?
– Will you prefer to go to this place for vacation again next year and if yes, why?
Cue Card
Talk about a leader from the world of business, politics or sports. Please say
– Why do you think he is a leader?
– What does distinguish him from other leaders?
– What does inspire you about him?
Discussion
– What are the qualities of a good leader?
– Is the leader responsible for his/her followers?
– Is there any social responsibility that lies with a leader?
– What should leaders do to inspire their followers?
– What role do media and technology play in creation of leaders?
Get a self study book, for Academic click here, for General here.
Subscribe to IELTS-Blog.com via RSS or via email