The Speaking questions below were shared by T who took an IELTS exam in Myanmar.
Speaking test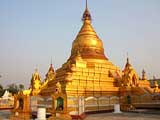 Interview
– What is your full name?
– May I see your identification card?
– Do you live in a city, town or in the country?
– Is it a good place to live in? Why?
– Is it a safe place for children to live in?
– Do you do any exercises?
– Should everyone do exercises? Why?
– What sports are you good at?
– Would you like to learn how to do another sport? What is it? Why?
Cue Card
Talk about a restaurant where you often go with your family and friends. Please say
– What restaurant is it?
– Where is it located?
– What does it look like?
– What do you usually eat there?
Discussion
– Why do people usually eat in a restaurant?
– What makes the restaurant food so special?
– What do you have to look for when buying food?
– What is the difference between the food eaten at home and in a restaurant?
– Should schools teach children about healthy food and encourage them to eat it?
Get a self study book, for Academic click here, for General here.
Subscribe to IELTS-Blog.com via RSS or via email