An IELTS test taker from Mexico (thank you L!) shared his Speaking questions:
Speaking test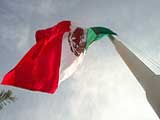 Interview
– Are you working or studying now?
– What do you do at your job?
– Do you like boats?
– Would you buy a boat? Why?
– Have you traveled by boat?
– Do you think that people in your country like boat trips?
Cue Card
Describe a website that you have visited, that helped you in some way. Please say
– When did you visit it?
– What is it about?
– How did you find out about it?
– Why was it helpful?
Discussion
– Do you think the Internet is good for people? Why?
– Do you shop online?
– Do you think that universities make good use of the Internet?
– What about private universities?
Get a self study book, for Academic click here, for General here.
Subscribe to IELTS-Blog.com via RSS or via email