An IELTS test taker from Macedonia (thank you A) was asked these questions in a recent Speaking test:
Speaking test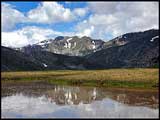 Interview
– What is your full name?
– Can I see your ID?
– Where are you from?
– Do you work or study?
– What is your home like?
– What do you like or dislike about your home?
– Why do you like your home?
– If you had a chance to choose, what would be your ideal home?
– Do you like to travel to other cities?
– What kind of music do you like?
– Should we teach music to our kids?
– Do you think that a country's traditional music is important to its culture? Why?
Cue Card
Describe a person who is doing a very important job. Please say
– Who is he/she?
– What is the job?
– Why do you think it's an important job?
Discussion
– What are the main reasons for employees' poor performance at work?
– Explain how the employers can motivate their employees to perform better, other than giving them a pay rise?
– Do you think people doing unpleasant jobs should be paid more?
Get a self study book, for Academic click here, for General here.
Subscribe to IELTS-Blog.com via RSS or via email