Our friend M who took the IELTS test in Ireland remembered the following Speaking test questions:
Speaking test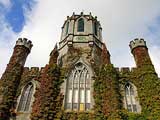 Interview
– What is your full name?
– Can I see your ID?
– Where are you from?
– Do you work or study?
– Where do you live now?
– Describe your home.
– What are its advantages and disadvantages?
– What is your favourite spot at home?
– What is your favourite colour?
– Are you used to wearing bright colours?
– Do you like cooking or baking? Why?
Cue Card
Talk about things that you do to live a healthier lifestyle. Please say
– What do you do?
– When do you prefer to do this activity?
– When did you start doing this? Why?
Discussion
– Why is it important to do physical exercises?
– Why do you think people don't do them regularly?
– Who is responsible for the healthy lifestyle of children? Why?
Get a self study book, for Academic click here, for General here.
Subscribe to IELTS-Blog.com via RSS or via email