The speaking topics below were shared by L, an IELTS test taker from India.
Speaking test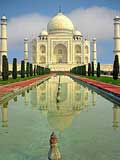 Interview
– What is your full name?
– Can I see your ID?
– Where are you from?
– Do you work or study?
– Do you like writing emails?
– What type of emails do you receive at work?
– Is it better to communicate via email or a phone call?
– Do you like presents?
– What is your favorite gift? Why?
– Have you received gifts that you did not like?
– How did you feel about it?
Cue Card
Talk about your favorite photograph. Please say
– What is on that photograph?
– Why is it your favorite?
– Who took this photograph?
Discussion
– Is it better to have a postcard or a photograph of the place you have visited?
– Is it good to take pictures of historic buildings?
– Is it necessary to show photographs of places when advertising?
– Is having a collection of photo albums helpful in any way?
Get a self study book, for Academic click here, for General here.
Subscribe to IELTS-Blog.com via RSS or via email