A test taker from India (thanks, A!) shared the Speaking questions from a recent exam:
Speaking test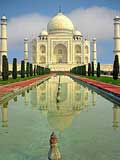 Interview
– What is your full name?
– Can I see your ID?
– Where are you from?
– Do you work or study?
– What do you like about your work?
– What do you dislike about it?
– Is your current job keeping you interested?
– Do you like challenges at work?
– How will you handle a task that is very lengthy and time consuming?
Cue Card
Talk about a place where you would like to build a house. Please say
– What place is it?
– When have you first visited it?
– Why did you like it so much?
Discussion
– What is your preference, a small house or a big one?
– What do you think about building a house in the countryside?
– If you could only build your dream home in the countryside (not in the city), would you do it?
– How important to you is the locality and the surroundings of your house?
Get a self study book, for Academic click here, for General here.
Subscribe to IELTS-Blog.com via RSS or via email