An IELTS test taker from India (thanks P!) shared the following questions:
Speaking test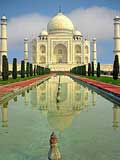 Interview
– What's your full name?
– Where do you come from?
– Do you work or study?
– What is your work schedule like?
– What do you like to do after work?
– How many hours of sleep do you need daily?
– Do you think it is convenient to sleep for short periods of time?
– Do you think elderly people need to sleep fewer hours?
Cue Card
Describe a futuristic book or film that you have read/seen recently. Please say
– How did you come to know about it?
– What was it about?
– Did you like/dislike it?
Discussion
– What do you prefer: modern or traditional style buildings? Why?
– What type of building were you living in when you were little?
– Can you tell me about any traditional building that became a tourist destination?
– What makes it attractive for tourists?
– What is your favorite futuristic book or film? Why?
– What technology in your opinion has been proven very useful in today's world? Why?
– How would you like a robot helping with your work? Why?
Get a self study book, for Academic click here, for General here.
Subscribe to IELTS-Blog.com via RSS or via email