When R took the IELTS Speaking test in India he was asked the following questions:
Speaking test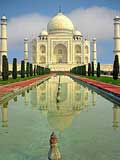 Interview
– What is your full name?
– Can I see your ID?
– Where are you from?
– Do you work or study?
– What subject are you studying?
– Where do you live now?
– Can you describe a transportation system in your area?
– Do you use it a lot?
– How do you prefer to travel?
Cue Card
Talk about the highest paying job that you would like to do. Please say
– What is it?
– Where and when did you hear about it?
– Why would you like to do it?
Discussion
– What are the benefits of such a job?
– Why do you think this job is necessary?
– Do the advantages of this job outweigh its disadvantages?
Get a self study book, for Academic click here, for General here.
Subscribe to IELTS-Blog.com via RSS or via email