These questions were shared by H who recently took the IELTS test in India:
Speaking test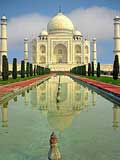 Interview
– What is your full name?
– What should I call you?
– Where are you from?
– Where is your town located in the country?
– What are the special features of your hometown?
– Would you like to stay there in the future? Why?
– What is the weather like in your country?
– How many different seasons are there?
– Do you prefer a cold or a hot season? Why?
Cue Card
Describe a film based on a real life event or a real person. Please say
– When did you see it?
– Did you like it or not? Why?
– What did you learn from the movie?
Discussion
– In your country what kind of real people are filmed in movies?
– What do you think is better: to read a book or to see a movie based on a book?
– What are the most important things to make a movie successful?
– Do you think the star acting in the movie influences the success of the movie? Why?
Get a self study book, for Academic click here, for General here.
Subscribe to IELTS-Blog.com via RSS or via email