The speaking questions below were shared by an IELTS test taker from India (thank you N!), enjoy:
Speaking test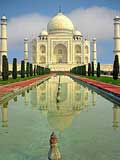 Interview
– What is your name?
– Can I see your ID?
– Where do you live?
– What entertainment facilities are available in your hometown?
– What kind of entertainment did you like as a child?
– Do you prefer living in a big or a small city? Why?
– How is the weather in your country?
– What is the difference between climates in other countries and your country?
– What is your favorite season?
Cue Card
Describe a training session that you have enjoyed a lot. Please say:
– What was it for?
– What is the reason you liked it so much?
Discussion
– Are you still in touch with your tutor?
– Do you believe that educational activities for children should involve fun?
– What skills are necessary to become a good teacher?
– Do you believe that physical education should be given free to everyone?
– Do you believe that people can learn new things at any age?
– Do you agree that every person should learn new skills regularly? Why?
Get a self study book, for Academic click here, for General here.
Subscribe to IELTS-Blog.com via RSS or via email