Our kind friend S who took the IELTS test in Ireland was asked the following questions in Speaking:
Speaking test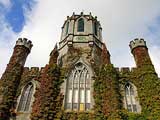 Interview
– What is your full name?
– Can I see your ID?
– Where are you from?
– Do you work or study?
– Where do you live?
– Do you write a lot?
– Did you write a lot when you were at school?
– What did you write most of the time?
– Describe your dream home.
Cue Card
Talk about an incident when you were late for something. Please say
– What and when was it?
– How did you manage it?
– How did you feel about it later?
Discussion
– How important is it for people to be punctual, nowadays?
– What is the difference in time management between the young generation and older people?
– People in some countries are more punctual than in others, why?
Get a self study book, for Academic click here, for General here.
Subscribe to IELTS-Blog.com via RSS or via email