The questions below were shared by our friend G who took her exam in Sofia, Bulgaria. The rest of the topics were just like in the exam in Spain.
Speaking test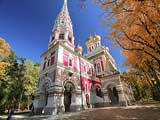 Interview
– What is your full name?
– May I see you ID card?
– Do you live in a city, a town or a village?
– Is it a nice place to live?
– Is it good for young people?
Cue Card
Talk about a program you watched on TV and learned something from. Please say:
– When and where did you watch it?
– What was it about?
– Why did you watch it?
– What did you learn from the program?
Discussion
– Do you watch TV often?
– Are there programs you can learn something from?
– How does a person become famous?
– What about the people who participate in reality shows? How do they become famous?

Get a self study book, for Academic click here, for General here.
Subscribe to IELTS-Blog.com via RSS or via email