Our kind friend V shared the Speaking questions from a recent IELTS test in Romania:
Speaking test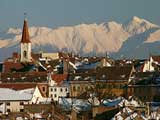 Interview
– What is your full name?
– Can I see your ID?
– Where are you from?
– Do you work or study?
– Does your name have a meaning?
– Is your name popular in your country?
– When is the most productive part of the day for you?
Cue Card
Talk about something that happened to you recently and made you happy. Please say
– Where was it?
– How did you feel at that moment?
– Whom were you with?
Discussion
– What is more important for you: happiness or money?
– Can money bring happiness?