The Speaking questions below were shared by J from Brazil (thank you!)
Speaking test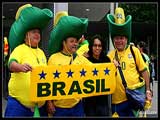 Interview
– Tell me about the place you live in.
– Tell me about your job.
– Do you prefer to work or study in the mornings or evenings? Why?
Cue Card
Speak about a place outside of your country that you would like to visit. Please say:
– Why do you want to visit this place?
– What do you know about this place?
– Why do you think you would enjoy?
– What would you do there?
Follow-up question: Do you know someone who was there?
Discussion
– Are newspapers the most important means of getting information in your country? Why?
– How do people from your country get information about traveling?
– What in your opinion is the optimal length of vacation?