The speaking questions below were shared by L who took the IELTS test in Australia.
Speaking test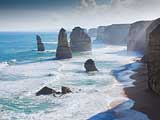 Interview
– What is your full name?
– Can I see your ID?
– Where are you from?
– Do you work or study?
– Do you think your work is demanding?
– How many hours do you like to sleep at night?
– Do you think older people need less sleep than young people?
Cue Card
Describe a game (not a sport) that you used to play as a child. Please say
– What was it?
– Where did you play it?
– Whom did you play with?
– Did you enjoy it? Why?
Discussion
– Do you think games children play today have changed over the years?
– Should adults play games?
– Do you think it's beneficial for employers to organise games for their staff?
– Do adults play games in your country?
– Should every large residential area have recreational facilities?
– Who should fund these facilities?
– Are recreational facilities in your home country different compared to Australia?
Get a self study book, for Academic click here, for General here.
Subscribe to IELTS-Blog.com via RSS or via email