This is what our friend R. from India has shared about his General Training IELTS exam.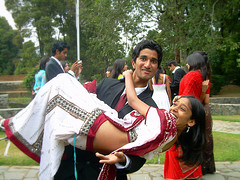 Listening test
It was okay, I scored 7.5
Reading test
I thought I did pretty well but I only got 6. I usually scores very well in all the exercises I did prior to this exam. I still don't know how this is possible.
Writing test
Writing Task 1 (a letter)
Write a letter of recommendation for a friend who submitted his resume to a tourist office.
Writing Task 2 (an essay)
Advertising influences people to buy thing such as clothes and shoes. What are the problems caused by advertising? What solutions can be offered?
I scored 6.5 on this task here – again I don't know where I went wrong, the topic is quite simple.
Speaking test
Cue Card
Describe a useful piece of equipment other than a computer. Please say:
– Where it is used,
– How it works,
– How it benefits you.
In the Speaking I scored 7. Never mind that the examiner was falling asleep 🙂
Get a self study book, for Academic click here, for General here.
Subscribe to IELTS-Blog.com via RSS or via email