What a great feeling it is to finally reveal the 6 winners who received the best IELTS results in March. Coming from 4 different countries this is a truly international group of high achievers, with one thing in common – no score is below Band 7!
And the winners are:
Academic Module – 1st place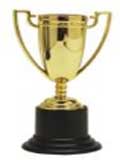 Michelle Sim from Malaysia, Band 8.5
Academic Module – 2nd place
Dinma Ukoha from Nigeria, Band 8
Nodirbek Dushamov from Uzbekistan, Band 8
Academic Module – 3rd place
Jeffin Jacob from India, Band 7
General Training Module – 1st place
Harshitkumar Mantri from India, Band 8
General Training Module – 2nd place
Battu Singh from India, Band 7.5
Congratulations! We applaud the winners and send their certificates of achievement to their emails – let's make this day a little bit special. The winning IELTS results will be displayed in the IELTS-Blog hall of fame – if you won, please feel free to show off to your family and friends!
As our readers keep telling us, the tips from winners are very important to them and are immensely helpful. It happened so many times that a person was following our blog closely and reading the winners' advice, and then he or she was able to score higher because of that. Let's keep this virtuous circle going, what do you say?
So, we hope to hear from the winners the stories of how they prepared and studied, and what helped them achieve success in IELTS. Anything they wish to share will be posted on IELTS-Blog without delay, so everyone can use the same technique and get a better score in their own exam this month.
P.S. IELTS results competition runs every month, and everyone is welcome to participate. Learn how to enroll here.