They say "In every end there is also a beginning", and these words carry deep meaning. A good IELTS score means the end of preparation and uncertainty, and the beginning of a new, better life. Today we would like to congratulate 16 IELTS test takers who had a very good beginning to 2016. Their year started with IELTS Band 7, 7.5, 8 or 8.5 which made them the envy of their friends, and the pride of their families.
Let's put our hands together for the highest IELTS scorers of January 2016:
Academic Module – 1st place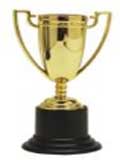 Vidya Venkataram from India, Band 8.5
Ruchir Vasaiwalla from Australia, Band 8.5
Academic Module – 2nd place
Adil Nijat from Pakistan, Band 8
Rinchen Lama from Nepal, Band 8
Shahbaz Ahmad from Pakistan, Band 8
Abdulhafiz Onimisi Usman from Nigeria, Band 8
Academic Module – 3rd place
Rajinder Kaur from India, Band 7.5
General Training Module – 1st place
Mozhdeh Jafaridoulabi from Iran, Band 8.5
Rahul Khare from India, Band 8.5
Mairyn Alejandra Valdes Bueno from Venezuela, Band 8.5
General Training Module – 2nd place
Anil Kumar Suman from India, Band 7.5
Robson De Souza Lima from Brazil, Band 7.5
Akash Kumar Agrawal from India, Band 7.5
Raphel Rupesh Jassani from India, Band 7.5
General Training Module – 3rd place
Tony El Chaer Jreige from Venezuela, Band 7
Congratulations to the winners! As a token of our appreciation we are sending your certificates of achievement to your emails. Winning IELTS results will be displayed in the IELTS-Blog hall of fame – so if you won, please feel free to show them off to your friends!
If you are wondering how these people were able to achieve such wonderful results, you're not alone – many of our readers email us and ask this question. This is why we always contact the winners and ask for their tips and advice for other test takers. Anything they share we post on IELTS-Blog.com, so everyone can use the same technique and get a better score in their own exam this month.
I'm pleased to tell you that some of the winners used our IELTS materials and services to prepare for the exam: Tony El Chaer used IELTS Success Formula book, Raphel Jassani used our practice tests, Ruchir Vasaiwalla and Anil Suman used "Target Band 7" e-book, and Robson Lima used our Writing Correction service.
Meanwhile, we hope to hear from the other winners the stories of how they prepared and studied, and what helped them achieve success in IELTS.
P.S. IELTS results competition runs every month, and everyone is welcome to participate. Learn how to enroll here.