Five hard-working IELTS test takers won in our April results competition. Let's give a round of applause to the winners!
Academic Module – 1st place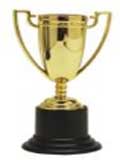 Rucha Deo from India, Band 8.5 (with a 9 in Listening)
Aung Zin Phyo Thein from Myanmar, Band 8.5 (with 9's in Reading and Listening)
Academic Module – 2nd place
Sherif Makkawy from Egypt, Band 8
Academic Module – 3rd place
Nicoleta Roxana Poiana from Romania, Band 7.5
General Training Module – 1st place
Monica Jo from Indonesia, Band 8 (with 9's in Reading and Listening)
Congratulations! To show our appreciation to the winners we are sending their certificates of achievement to their emails. Winning IELTS results will be displayed in the IELTS-Blog hall of fame – so if you won, please feel free to show them off to your friends!
We should really find out how these lovely people were able to score so well. All we know at the moment is that Monica Jo ( Band 8 ) used our book "Ace the IELTS" and said it was a "key success factor" for her. But we definitely need to know more!
Hope to hear from the winners the stories of how they prepared and studied, and what helped them achieve success in IELTS. Anything they wish to share will be posted on IELTS-Blog without delay, so everyone can use the same technique and get a better score in their own exam this month.
P.S. IELTS results competition runs every month, and everyone is welcome to participate. Learn how to enroll here.