You've told us how you find advice from people who did well in IELTS useful, and here comes more: today we have tips from Sampath (a Sri Lankan candidate), who received a Band Score of 7.5 in IELTS after just 2 weeks of preparation.
When Sampath passed the exam, he wrote to us and said: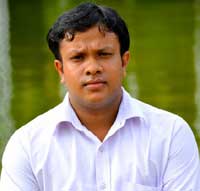 "I got my IELTS results today – I got Band 7.5 Overall, Listening 8.0 and 7.0 for the other three tests. I just wanted to say thank you for all the support from your side. Your blog helped me a lot. I worked according to your plan and I studied only two weeks but managed to get this score. Thank you very much again."
Naturally, we invited Sampath to participate in our IELTS results competition – in which he won the first place (Academic module). According to our tradition, Sampath shared what he believes helped him, and may help others achieve great scores in IELTS:
Sampath said: "Strategies and tips in that sense I didn't have much. I mean the only thing I did was following your book. I am an undergraduate student in a Sri Lankan university. Therefore, due to the busy schedule at the university since I was in my final year, final semester at that time and so I couldn't find much time for IELTS. To be honest with you I had only one and a half to two weeks. What I had done during those few days was just followed the IELTS Target Band 7 book and I did a few exam papers from Cambridge books. Thanks to you and your short and sweet strategies I managed to get a good score.
What I have to say to the future students is, just follow Target Band 7 book and do practice tests from exam books. It is more than enough to get a good score. I am sure if I had some more time to study I would have definitely scored 9.0 in each section. It is that easy with the help of these books.
Finally, I must thank Simone for her great support for all the IELTS students. Reading her book and the tips allowed me to understand " Hey… I can do this." and so I did it. I think it is possible for everyone. So all the very best to all of you."