What you're about to read is a very inspiring story. It began in October 2012, when Kevin and Sainattee H, a family living in Thailand, needed to prepare for the IELTS test to move to Australia.
Kevin spoke English all his life, but his wife Sainattee, who is Thai, never had formal training in English after finishing high school. She learned English all by herself while working in the hospitality industry in Thailand, and it was fine for everyday use – but taking a formal English test was quite a scary prospect.
Looking for IELTS materials to help him coach Sainattee, Kevin came across IELTS-Blog.com and subscribed to our free daily tips. A couple of weeks later he decided to put his trust into our book
Ace the IELTS – and never regretted this step, because… this book helped him prepare his wife and just one month later she passed IELTS "in one go, with flying colours" – those are his own words!
Here is what Kevin says about their IELTS journey: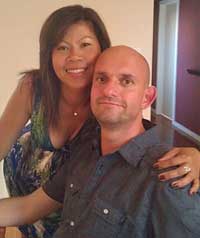 "I wanted to write to you to thank you for all the great work and effort you are doing by providing all these tools, tips and recommendations available for people who have to prepare for their IELTS test.
For myself the target score was never in doubt but for my wife who is Thai this was a very daunting target to achieve. But thanks to all your collateral, recommendations and book we bought she was able to pass the test in one go.
Although her English is very good for a daily conversation use, practising it in test situations is a completely different thing. She learned English all by herself after she left high school by working in translation offices and hotel receptions, as English was at that time only taught on a very basis level in Thai public schools. When I met her many years ago her English was already quite good and she was not shy to use it in daily conversations. But then to raise the level of her English knowledge up to the next level to be able to use it in a real test situation I was not sure if she could handle the stress of the IELTS test.
But thanks to your book, test samples and other collateral and my guidance she nailed it in one go. My wife has also learned a lot about English language grammar and structure thanks to your book and we have asked our daughter to use it as a guide to improve her English writing skills.
So there you go, a big thank you from 2 happy campers and I will recommend your collateral, books, sample tests and recommendations to anybody I know.
There is a lot of IELTS clutter out there, but your site captures all the relevant and required tools to pass the test so I think this should be known to those who have to take the test."