Today I have quite a story for you. A test taker, let's call him Hardip, sent me an email and explained how he was able to improve his Speaking score from Band 6 to Band 9 in 3 months. To those of you new to IELTS preparation I should say that this doesn't happen often, a jump of almost 3 bands is a very significant one. And here is Hardip's analysis of his performance:
"I appeared in IELTS in October 2010 and got 6.5 in the speaking module. After 3 months I got Band 9 in the speaking module. So what did I do wrong the first time?
Here are the few mistakes I made:
1. I realized the mistake #1 after my first exam – I was speaking too fast for the examiner to follow. The reason is (this was revealed to me by one of the IELTS examiners I went to for feedback) – Indians try to speak too fast and Asians try to speak in the present tense. I am an Indian and was trying to speak too fast.
Tip: Speak slowly and clearly. Pause after sentences, not in between the sentences (IELTS examiners call it 'chunks'). Don't repeat your words or a sentence you already said.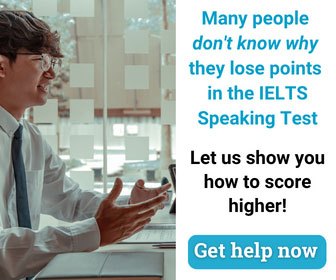 2. During my first speaking test, in the cue card section, I did not use the 1 minute time effectively. I started speaking only after 20 seconds.
Tip: Use the 1 minute in full. Keep writing things to say until the examiner asks you to start.
3. During the first exam I was using technical terms like DSLR (instead of camera) PS2 (instead of PlayStation game console) and so on.
Tip: Keep conversation free of technical words. Use words from
every day English as the examiner may not be familiar with some terms.