This post is dedicated to the 10 lucky winners of October round of IELTS Results Competition. Speaking of luck, Thomas Jefferson once said, "I'm a greater believer in luck, and I find the harder I work, the more I have of it." Imagine how hard they worked to get SO lucky!
Let's give a round of applause to the owners of best IELTS results of October 2019:
Academic Module – 1st place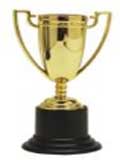 Abbas Musa from Nigeria, Band 8
Academic Module – 2nd place
Bekzod Khayitov from Uzbekistan, Band 7.5
Nkechi Ezeneche from Nigeria, Band 7.5
Jobin Geevarghese from India, Band 7.5
General Training Module – 1st place
Don Covar from the Philipinnes, Band 8
Nisna Thirunilath from India, Band 8
Prabhjot Kaur Phull from India, Band 8
General Training Module – 2nd place
Muhammad Akram from Pakistan, Band 7.5
Sunny Bhambhani from India, Band 7.5
Wahumpurage Weerasekara from Sri Lanka, Band 7.5
We congratulate the winners, and to celebrate these wonderful achievements we are sending some special certificates to our winners' emails. The winning IELTS results will be displayed in the IELTS-Blog hall of fame – if you won, please feel free to show off to your family and friends!
How did they score so well?
We are expecting responses from our winners and as soon as we get their tips, we will post them on IELTS-Blog.com. In the meanwhile, we are delighted to share that Nkechi Ezeneche (Overall Band 7.5) studied with our book 'Target Band 7', and that Muhammad Akram and Bekzod Khayitov (both received Band 7.5) used our writing correction service in their exam preparation.
When we held the very first IELTS results competition 11 (!) years ago, we did that with a goal to connect successful test takers with everyone else preparing for IELTS. Winners have obviously done a lot of things right, and by sharing their tips, 'secrets' and advice they are helping thousands of others achieve great results in IELTS. IELTS-Blog.com is proud to be the channel for the experience and wisdom of high scorers to reach every IELTS test taker in the world!
So if YOU got a high score in IELTS, no matter when – this month, last month, a few months ago – we want to hear from you! We would like to extend our warm invitation to everyone who is happy with their IELTS score. Take part in our IELTS results competition today, and share your IELTS tips when you win!