I've received this letter from another frustrated student who was really disappointed with the exam and the result and it made me think – what she did is very typical to many of us.
I know for a fact that many of you postpone the exam preparation till the last possible moment. Hold on, don't get angry with me yet – I am not lecturing you. I am not your mother, but someone who has been there and knows how we, people, tend to procrastinate before leaping into important projects in our life.
So please have a read and think – do you want to be in the same position and feel the same anger and frustration? And if not, what can you do about it? Here goes the letter:
"I didn't really study. I did one Reading test, a day before the exam and had only 3 incorrect answers. And I also did one Listening test and got 38 correct answers out of 40 (around that, I don't really remember how many questions there were).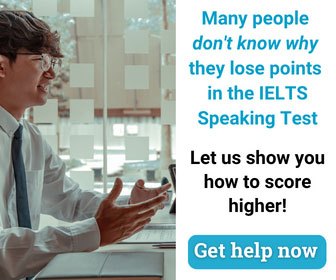 I was doomed in the real exam. It was tougher than the test that I did at home. I couldn't for the life of me focus on the listening part. Reading? Way tougher than I thought. The 1st and the 2nd passages were too tough, complicated and time consuming. I ended up having 10 minutes to read and answer the 3rd passage.
I'm weak in writing. I'm not really good at speaking too. I don't really have ideas to be generated and elaborated. The questions were on a museum and an art gallery in the interview. Part 2 was about the law, Malaysian law. Part 3 again about the law, this time around, it's on international law.
Maybe, I was unlucky to get that topic which I was unable to answer fluently. A candidate who got in before me got a topic on their best friend and friendship. ~sigh~
So basically, Simone, I'm all frustrated and kind of blaming myself for not getting the right materials and not allocating time to study."
People, what are you waiting for? Hit the books! (Translation: for those unfamiliar with this idiom, it means: Start studying!)