Today is a very special day for me. I am happy to announce that your favorite book "Target Band 7 (How to Maximize Your Score)" is now available on Amazon.com. It was a project that I worked on for a long time, and now it's finished and fills my heart with pride.
Some people like e-books, and some prefer printed books. "Target Band 7" has been selling very well for 2 years now as an e-book, and I promised the readers of IELTS-Blog that soon they will be able to buy the "real" book. Finally here it is – so don't be shy, have a look; click here to view and order.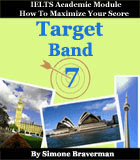 About the book: "Target Band 7" is an excellent self-study book for intense IELTS preparation in a few weeks. It is designed to help students achieve their best personal score. All the tips, techniques, strategies and advice are focused on maximizing students' score by increasing their task-solving speed and efficiency, and preventing typical mistakes.
Good luck with you preparation!