Today we are delighted to share an article written especially for you by Jessica Beck from IELTS Energy and All Ears English. In this article Jessica explains what exactly happens on the IELTS test, and what you should do about it.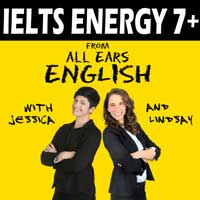 Are you wondering what happens on the IELTS Speaking test? Don't worry! You can stop guessing and wondering because in today's post we'll show you exactly what you should expect before, during, and after the Speaking test.
Before the Speaking Exam
In most test centers around the world, all four sections of the IELTS exam are held on the same day. Beginning at 9am, you take the Listening Test, then the Reading Test and then the Writing Test. These three sections are all done in the morning, and should be finished on or before noon.
After this tiring and challenging morning of English, you are free to gather your belongings, which were checked in before entering the examination room, and leave the test center for lunch. Usually, there is a schedule posted which tells candidates what time their Speaking Exam is. The time of the interview can be anywhere from 1pm to 7pm. Again, this is the schedule of most test centers; however, some test centers do offer Speaking Exams on different days, often in the week before or the week following the official test date.
Test day can be quite tiring and stressful, especially trying to fill the time before the Speaking Exam while not stressing out too much. Make sure to make a plan for these possible hours, such as a place to eat lunch and a park to take a walk in. Look at a map of the area around the test center before test day and plan some activities.
You should aim to be back at the test center one hour to 30 minutes before your scheduled time. Many candidates are able to be interviewed before their time. Again, make sure you have a book, tablet or another relaxing activity to fill the wait time.
An IELTS staff member will call your name, then check your ID again and do one fingerprint. You give the staff member your belongings, even your cell phone, as you are only allowed to bring your ID into the interview room. Then, a staff member will take you to the Speaking Exam room, and you will sit in a chair outside. You must wait for the examiner to come and get you – do not try to go in before this.
During the Speaking Exam: 11-14 minutes
When you enter the room and sit directly across from the examiner, the examiner will begin by turning on the recording device, usually an mp3 player, and sometimes she/he will use a timer. The examiner will introduce the test for the recording, and then say good afternoon to you and look at your passport. Then the exam begins.
In Part 1, you will be asked about three topics. They are all easy topics, and all the questions are about you or your personal experiences. The first group of questions will probably be about your home/hometown, your work or your studies. The next sets of questions will be about anything from shopping to exercise to food, but, again, they are all easy and they are all about you. Aim for each answer you give to be 2-5 sentences.
In Part 2, the examiner will give you directions, then hand you a topic card, pencil and paper. You will have one minute to take notes about the topic, and then you must speak for two minutes. Do not stop speaking- keep talking until the examiner asks you to stop. Usually, after the examiner stops you, he/she will ask you a follow-up question. You only have to give a one sentence answer to this closing question – it's not important.
Finally, in Part 3, the examiner will ask you more abstract questions about the world or society in general. The questions are related to the Part 2 topic, but they are more difficult, formal and academic questions, such as Why do young people spend so much time online nowadays? Is this positive or negative? Part 3, like Part 1, only lasts 4-5 minutes. Aim for your answers in Part 3 to be approximately 30 seconds – not too long, and not too short. Practice answering in this rough time frame before the exam so your answers are direct and organized.
When Part 3 is finished, the examiner will thank you, and you should also say thank you, and you can leave the room. That's it! You're done! Leave the test center and relax.
About Jessica
Jessica Beck is the IELTS expert at All Ears English. She brings 10 years of experience with IELTS and has also written a number of test-prep textbooks. She is the co-host of IELTS Energy which is a fun podcast where we show you how to get your target score on the IELTS. Click here for the 7 Easy Steps to a 7 or Higher on IELTS.