When B took the IELTS Speaking test in India, the examiner asked the following questions:
Speaking test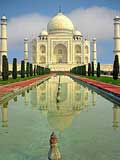 Interview
– What is your full name?
– Can I see your ID?
– Where are you from?
– Do you work or study?
– What subject are you studying?
– Do you like to stay in the college after lectures?
– Let's talk about friends.
– Do you prefer having more friends or a limited number of friends?
– What do you usually do when you go out with friends?
– How often do you meet them?
– Let's talk about robots.
– What do you know about robots?
– Do you like them?
– Would you prefer a robot or a human maid? Why?
– Would you like to have a robot driving a car? Why?
Cue Card
Talk about a speech you have heard that inspired you. Please say
– Who was the speaker?
– What was the speech about?
– Where and when did you hear it?
Discussion
– Why were you inspired by it?
– What do you think about conferences?
– Can people who aren't part of a particular conference attend it?
– Are international conferences a good idea? Why?
Get a self study book, for Academic click here, for General here.
Subscribe to IELTS-Blog.com via RSS or via email