Our friend R took the IELTS test in Australia and remembered the following topics/questions:
Listening test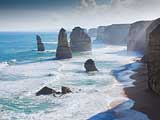 Section 1. Volunteer registration form.
Section 2. A conversation between a student and her tutor regarding preparation of her drama.
Section 3. Don't remember.
Section 4. About the effect of synesthesia.
Reading test
Passage 1. About night-shift workers.
Passage 2. Description of Kuala Lumpur railway station.
Passage 3. Don't remember.
Writing test
Writing task 1 (a letter)
Your family situation has changed, and you need a new accommodation. Write a letter to the real estate agent asking for a new arrangement. You should say
– What is your family situation?
– What are the requirements for the new accommodation?
– When do you want to move?
Writing Task 2 (an essay)
Some believe that the development of technology and improved software allow us to translate between languages automatically. Therefore, it is not necessary to learn foreign languages any more. Do you agree or disagree?
Speaking test
Interview
– What is your full name?
– Can I see your ID?
– Where are you from?
– Do you work or study?
– What do you do?
– Do you like working with people or on your own?
– Why is that?
– Is it good to let teenagers have part-time jobs? Why?
– Do you have problems with noise?
– Does noise affect your work? How?
Cue Card
Talk about things that you do to save money for a goal. Please say
– What is the goal?
– How do you save money?
– When do you do it?
– How well does this work for you?
Discussion
– Have you shared this way of saving money with anyone?
– Is it important to teach children to save money?
– Who is responsible for teaching children about saving money?
– What are the natural resources that you think we waste the most?
– Do you think technology might help control this?
– What will happen if people don't change their habits of using natural resources?
– Why do you think so?
Get a self study book, for Academic click here, for General here.
Subscribe to IELTS-Blog.com via RSS or via email